Welcome to the Airport Assessment stage! If you have made it this far, it means that you have successfully completed the first steps towards working at TSA. You have successfully passed the CBT and accepted the Contingent Offer, as well as the Credit Check. On this page, you will find details regarding all the steps of the Airport Assessment.
Airport Assessment Steps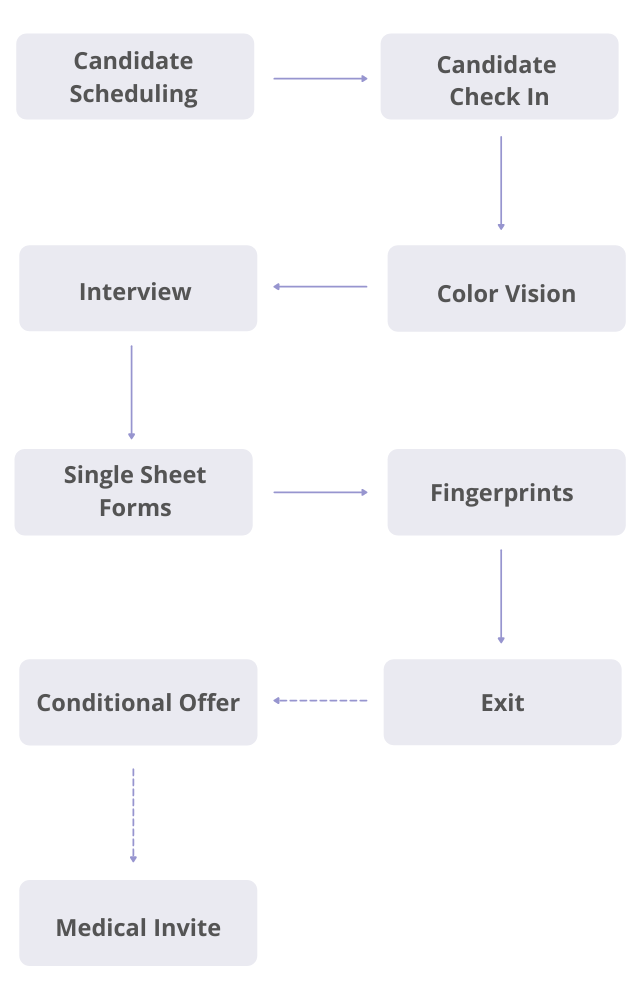 Schedule Appointment
Prior to the Airport Assessment, you will receive a phone call in the importance of the TSO position will be explained to you, as well as the conditions of the job you are being offered (if you have already received the Contingent Offer), i.e., the location, salary, and hours, as well as the benefits associated with working in this position. You will also be reminded of how complicated working as a TSO can be – for example, the job can be stressful and physically demanding (many hours on your feet, few breaks) – and the duties of the position. If you agree to all the conditions presented during the call, you will be given a date to attend your Airport Assessment.
Check-in
On the day of your arrival at the airport for the Airport Assessment, you will be asked to check in before continuing with the assessment process.
The assessment process consists of several steps:
Identity Verification
All applicants must submit two forms of identification issued by the U.S. Federal or State Government. At least one of the forms of identification must include both a photograph and a signature. The applicant's identification must be original, current, legible, and reflect their current legal name. In addition, driver's licenses must comply with applicable state laws referencing name and address information. If the name on the employment application does not match the identification, the applicant must provide proof of name change through a marriage certificate or court-issued name change certificate. Applicants will not be admitted to the facility without these two pieces of identification.
The following table lists acceptable identification forms. Applicants may bring either two types of ID from column A or one piece of identification from column A and one from column B:
| Column A (ID with picture) | Column B |
| --- | --- |
| Driver's license | Social Security Card |
| U.S. Passport | Birth certificate |
| U.S. Military ID (only if it includes signature and picture) | U.S. Certificate of naturalization |
| State Identification Card |   |
Examples of unacceptable IDs:
Student ID
Employer identification card or badge (not issued by a State or Federal Government)
Store loyalty card
Healthcare membership cards (not issued by a State or Federal Government)
Depositing Personal Belongings
After verifying your identity, your personal items will be collected and stored until the end of your Airport Assessment. Prohibited items such as keys, cell phones, pens, etc., will either be stored on site, or you will be asked to return them to your vehicle. It is also important to note that no weapons (firearms, knives, etc.) may be stored at the airport under any circumstances.
Non-Disclosure Agreement (NDA form)
At the end of the check-in and in order to proceed to the next step, the candidate must fill out and sign a Non-Disclosure Agreement form (form 1154). You can see a sample NDA form via the following link.
Color Vision Test
The "Farnsworth D-15 Color Vision" test, or simply the Color Vision test, determines whether the candidate has sufficient ability to distinguish colors in order to effectively perform the work required by a TSO. Indeed, as you can read about in detail on the following page, the job of a TSO also consists of being able to distinguish between the distinct colors and density differences between the objects as seen on the X-ray machine during the baggage check. It is therefore essential that candidates hired as TSOs have the ability to see and distinguish between the various colors.
Here is how this test is designed:
The candidate is in a closed room with the examiner. On a table is a box with 15 uniquely numbered colored caps. Each cap has a slightly different hue. One of the caps serves as a reference cap (starting cap). The candidate has 3-minutes to sort the caps in order according to the shades most similar to the reference cap. He must first choose the color most similar to the reference cap, then the cap with the color most similar to the previously selected cap and so on. Pass/fail distinctions are determined by the number of "crossovers" (i.e., an error) in the ordering of the caps by the candidate during the test. A crossover is defined as two caps incorrectly placed next to each other. If the candidate has made two or more crossovers, he/she fails the test. In this case, the candidate is allowed to attempt the test a second time, following the same instructions as described above. If a candidate fails the test both times, he/she will not be able to continue with the Airport Assessment and the recruitment process will be terminated. If he/she wishes, the candidate will be allowed to retake the test six months later.
You can practice online for the Farnsworth Test at the following link.
Farnsworth Test FAQ
Can I wear glasses during the test?

You can wear your glasses or contact lenses as long as the lenses are not tinted. X-Chrome lenses (special lenses for people with color blindness) are not allowed and must be removed immediately.
How long does the test take?

The duration of the test is 3-minutes. The test will begin following a concise explanation of what it entails.
Can I change my answers?

You can change your answers as many times as you like, as long as you have time left within the 3-minute allotment. Once time is up, you will not be able to change your answers.
How many mistakes can I make and still pass the test?

You fail the test automatically if you have made more than two mistakes. The examiner will not tell you how many errors you made.
Should I rank the caps from lightest to darkest?

You should classify caps by color, not by lightness or darkness.
TSA Standardized Interview
The next step of the Airport Assessment is the interview. This is a standardized (or structured) interview, i.e., the interviewer asks a set of predefined questions in a given order, and then ranks the answers according to a scoring system. This type of interview allows interviewers to collect similar types of information from candidates in a uniform context.
The candidate is taken to a closed room with a minimum of two interviewers (some panels have up to six interviewers). The interviewers ask the candidate six mandatory universal questions and assess and score seven soft skills. Each question has two options (A and B) and only one of them is asked of the candidate. The other option will be used if the candidate has difficulty with the first option.
Important update! Due to the current Covid-19 pandemic, some airports are conducting Airport Assessment interviews with candidates online, via video conferencing software, such as Cisco Webex, Microsoft Teams, Zoom, or Apple FaceTime.
STAR Technique
For the TSA and the job market in general, one of the most comprehensive techniques for answering interview questions is the STAR technique. This method allows candidates to answer interview questions clearly, providing concrete examples to demonstrate your abilities and experience.
STAR is an acronym that stands for Situation, Task, Action, Result. This technique is particularly effective when being asking skill-focused questions, just like those asked at the Airport Assessment by the TSA. These types of questions usually begin with "tell me about a time when ______ happened" or "share an example of a situation where ______".
Each of the STAR elements describes the steps in which the candidate must respond to behavioral or soft skill questions. They can be described as follows: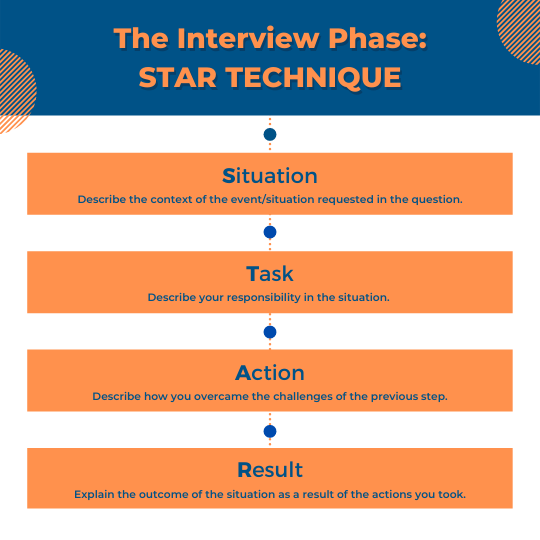 Situation
The first step is to describe the context requested in the question, whether it is at work or in your personal life, while volunteering, or any other relevant event. It is important to be as specific as possible. For example, this could be a description of a group project at work, or a conflict with a client/colleague.
Task
The second step is to describe your part of the responsibility in the situation. For example, you had to help your group complete a project in a very short time frame, or resolve the conflict in a respectful manner, etc.
Action
The third step is to describe how you accomplished the task described or overcame the challenges brought up in the previous step. It is important that you focus on what you accomplished on your own, not what your colleagues/clients/superiors accomplished.
Result
The final step is to explain the outcome or result of the situation as a result of the actions you took.
If you feel like you need to practice using the STAR method, take our online interview.
What Are Soft Skills?
Soft skills are non-technical skills that evaluate work capacity and are sought in candidates. They are a combination of personality traits, behaviors, and attitudes that form the basis for working in a team or with clients. These soft skills may vary slightly depending on the job and the skills needed but are fairly similar for most jobs.
Examples of Competency-Based Interview Questions
Adaptability, Flexibility & Resilience

This skill is essential for a candidate wishing to be accepted as a TSO; they must be able to adapt to any situation and react quickly, even if it is unexpected or complicated.

Definitions

Adaptability is the ability to learn new skills quickly and behaviors in response to changing situations and circumstances.

Flexibility is the willingness and ability to respond and adapt quickly to changing situations.

Resilience is the ability to recover and adapt to unexpected or complicated situations.

Examples of Questions Asked by the TSA

Tell us about the biggest upheaval you faced in your previous job. How did you handle it?
Describe an experience during which you received negative feedback from an employer, co-worker, or client. How did you handle this feedback? What was the outcome?
How would you handle a sudden change in the priorities of a project you were working on?
Tell us about a situation in which someone asked you to do something you were opposed to. How did you handle the situation?
What would you do if you made a strong proposal in a meeting, but your colleagues objected?
Honesty & Integrity

This skill is essential for individuals working in teams or as employees, such as TSOs. It helps build trust among team members, as well as with supervisors and passengers, and creates a healthy and respectful work environment for all.

Definitions

Honesty is the ability to be fair, truthful, and trustworthy.

Integrity implies high reliability and incorruptibility in one's job, which includes not betraying a responsibility or commitment, and remaining ethicality.

Examples of Questions Asked by the TSA

Describe an instance in which your integrity was questioned and how you responded.
Describe a situation where you witnessed unethical behavior. How did you respond?
Describe a circumstance in which you witnessed a procedural disagreement between two colleagues discussing SSI in a public space. What were your solutions, actions, and responses?
What are your weaknesses and strengths?
Teamwork

This skill is essential for TSOs and includes many interpersonal elements and behaviors. A TSO, whether in charge of X-ray, baggage, or passengers, always works as part of a team and must be able to communicate with other members of the group effectively.

Definition

Teamwork describes the process of working collaboratively within a group in order to achieve a common goal. It involves team members cooperating and giving constructive feedback regardless of conflicts and personal relationships between members.

Examples of Questions Asked by the TSA

Describe an instance in which you were a member of a team. How did you contribute positively to the team?
How would you respond if your team objected to a new idea or strategy you proposed?
Tell us about a conflict you had with a colleague and what you did in response.
Problem-Solving

The ability to manage conflict and resolve problems is one of the most important skills for TSOs. They must be able to identify, analyze and find a solution quickly and calmly in order to prevent situations from escalating.

Definition

This skill is a combination of different abilities that, when combined, allow for adaptation to conflict or problematic situations. It combines the following elements, among others:

Active listening
Analysis
Research
Creativity
Communication
Dependability
Decision making
Team building

Examples of Questions Asked by the TSA

Tell us about an episode in which you developed an unconventional approach to solving a problem. How did you develop this new approach? What challenges did you face and how did you overcome them?
Tell us about an episode in which you had to complete a task under a tight deadline. Describe the situation and explain how you handled it.
Tell us about a time when you showed initiative in your work.
Sometimes travelers get angry. How have you ever dealt with an individual who was a problem?
Leadership & Decisiveness

Being able to make decisions and having leadership skills is important for TSOs. A TSO must be authoritative with passengers and make quick and accurate decisions in any situation.

Definition

Decisiveness is the ability to make decisions quickly and effectively. Leadership is the ability to take the dominant position in a group in order to make the best possible decisions for the good of all.

Examples of Questions Asked by the TSA

Tell us about a decision you made whilst knowing it would be disliked by many people. How did you approach the decision-making process? How did you deal with the negative reactions of others?
Describe an instance in which you had to improve a team's performance. What challenges did you face and how did you overcome them?
What would you do if the work of an employee under your charge did not meet your expectations?
What would you do if a member of your team refused to do his or her share of the work?
Describe a situation in which you were given responsibilities at work. What was the situation and what actions did you take? What was the outcome?
Interpersonal Skills

TSOs must be able to maintain a polite, calm, and professional demeanor at all times, both within the team and while interacting with passengers.

Definition

Interpersonal skills include many elements; you must be able to demonstrate:

Understanding
Friendliness 
Courtesy
Tact
Empathy
Solicitude
Know how to establish links and relationships with others
Know how to deal with difficult, hostile, or distressed people
Maintain good relationships with people from different backgrounds and in different situations
Be sensitive to cultural diversity, gender, disability, and other individual differences

Examples of Questions Asked by the TSA

What would you do when faced with a colleague with whom you were unable to establish a positive relationship?
How would you handle working closely with a colleague who is very different from you?
Describe a problem or disagreement you have had with a previous supervisor.
Describe a situation in which you were faced with an unpleasant situation in your workplace and how you handled it.
Describe a time when someone acted negatively toward you. How did you respond?
Grading System Explanation
To score the interview, a score out of 30 is given for six of the competencies, while the Honesty/Integrity competency is scored separately. If the candidate has a minimum score of "3/5" for each of the six competencies and a pass for Honesty/Integrity, then the interview is marked successful. The minimum score is therefore 18/30 and a pass for Honesty/Integrity.
An insufficient score in the standardized interview is obtained if the candidate obtains a score lower than "3" (score of 1 or 2) for one of the competencies and/or a pass for the competency "Honesty/Integrity". In this case, the interview is failed, and the candidate will not continue the Airport Assessment. The candidate will be allowed to retake the assessment after six months.
Why a Panel Interview?
A standard panel is composed of two or more people who have in-depth knowledge of the job and are trained to conduct interviews.
During the Standardized Interview, the candidate and the interviewer exchange a lot of information. A panel of at least two or three interviewers allows for better documentation and interpretation of this information. In addition, the panel also reduces the risk of bias in scoring and allows for diversity among interviewers, which signals to candidates that the organization values diversity and fair treatment.
Fingerprinting and Digital Photos
The last step of the Airport Assessment is the taking of fingerprints and digital photos. This data will then be transmitted to the Transportation Security Clearinghouse (TSC), which collects fingerprints and digital photos of all airport employees (since 2001). The TSC is now the largest civilian information clearinghouse in the country.
Forms
Previously, the SF 86 and OF 306 forms were completed during the Airport Assessment. Nowadays, these must be completed online up to 21 days after passing the Airport Assessment. Candidates receive an email invitation to complete these documents after they have successfully completed the CBT and Credit Check. However, they can only complete the SF 86 in full after passing the Airport Assessment.
You can find a complete guide to filling out the SF 86 document on the following page.
The OF 306 can also be completed online using software such as DocuSign. Each candidate receives an invitation on their Dashboard to complete these documents online after taking the Airport Assessment.
Veterans Forms
Applicants wishing to apply as Veterans must fill in additional forms. These forms are not required in order to be accepted as a TSA employee but are necessary if the applicant wishes to receive Veteran preference status, which may affect their status on the eligibility list. The following documents are required:
Medical Forms
In addition to the forms described above, the applicant must also complete medical forms. These forms can be accessed directly from the Dashboard.
At this stage, candidates receive a medical kit, which they must keep with them until the medical examinations that take place after the Airport Assessment. This kit contains forms to be filled out by the doctors as well as a container for a urine test.
During the Covid-19 pandemic, some airports have conducted most of the Airport Assessment online. In this case, the medical kits are sent via FedEx.
Exit Process
During the Exit Process, the candidate may (or may not) receive a conditional job offer, depending on the airport's availability. Along with the offer, he/she will receive all the information regarding the job offer (location, salary, hours, etc.). He/she will be accepted on condition that he/she successfully passes the medical, drug, and Background Check.
---
Did our tips help you pass the Airport Assessment? Do you want to share your experience to encourage other candidates? We would greatly appreciate receiving any comments, testimonials, and experiences so that we can improve and help all candidates succeed like you did.